Schedule & Program
| Time | Agenda |
| --- | --- |
| 8:30 – 9:00 | Check In |
| 9:00 – 9:20 | Opening Session |
| 9:30 – 10:20 | Workshop #1 |
| 10:20 – 10:35 | Break, Snack |
| 10:35 – 11:25 | Workshop #2 |
| 11:35 – 12:25 | Workshop #3 |
| 12:25 – 1:15 | Lunch & Activities |
| 1:15 – 2:00 | Closing Session |
Workshops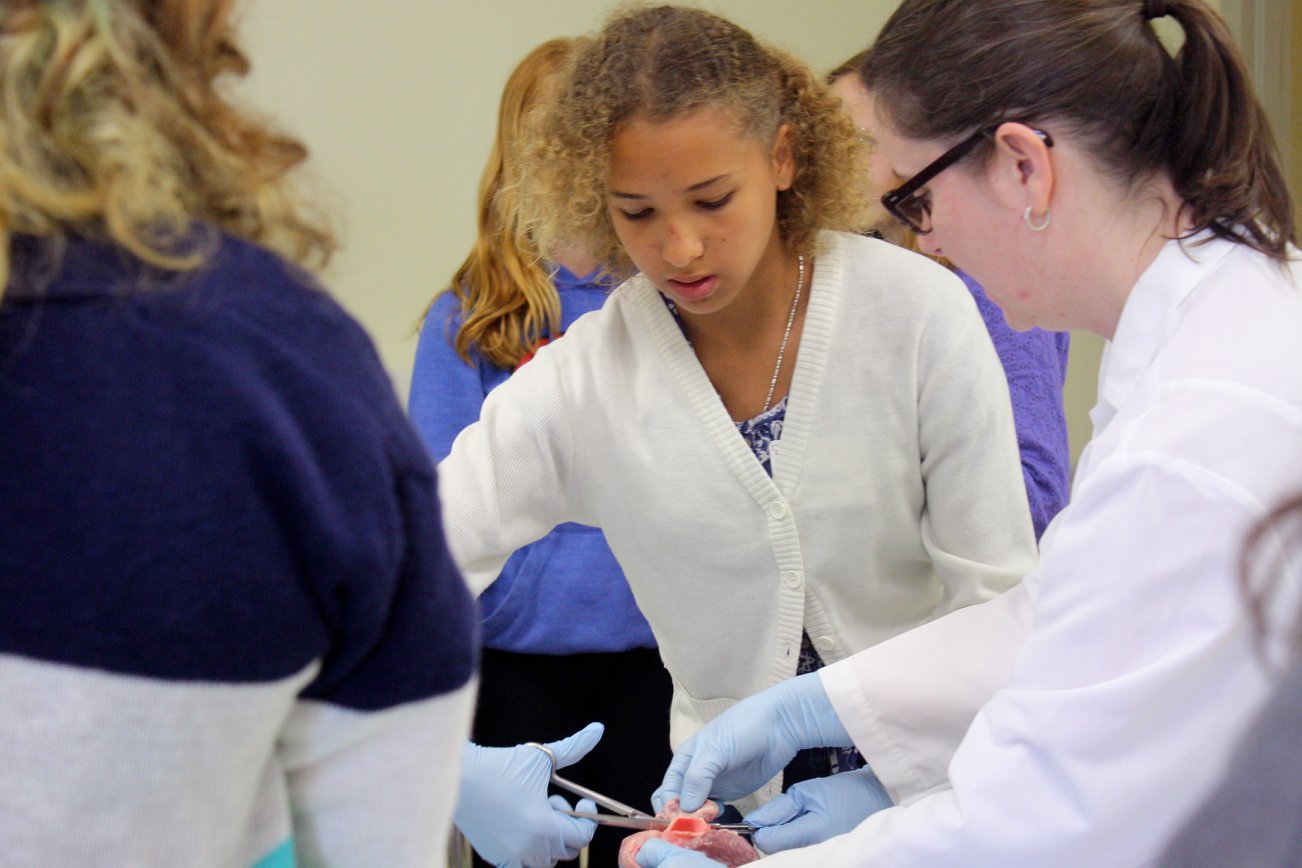 Our workshops change year to year. Here is a selection of some past workshops.
Chemists Have Solutions (Chemistry)

Using paper chromatography and a design of experiment matrix, students will explore a simple separation technique as well as how collaborating yields more results in less time.

Wheel of Fortune and Jeopardy (Biology, Chemistry, Health)

Be a game show contestant and test your knowledge of what nurses need to know.

Let's Build a Paper Dome (Physics, Engineering)

Come join us build your own gigantic dome with just newspaper and tape. This activity shows how you can combine geometry with simple and lightweight materials to build strong structures. What you'll learn can also apply to buildings, bridges, airplanes and towers.

Invisible Forces (Physics, Engineering)

Build an electric motor and study the behaviors of invisible forces at work!

Defying Gravity; Designing the built world (Physics, Engineering, Earth Science)

Introduction to structural engineering and how buildings are designed to withstand natural disasters in a constantly changing environment.

Let's Get Rolling with Virtual Dice! (Computer Science)

LabVIEW, from National Instruments, is a graphical programming environment. Engineers use it to develop automated tests, and more. In this workshop, we will use it to design a virtual die face. Then we'll see how this can be put to use in a dice game called 'Pig.'

Sparkly Gems & Minerals (Geology, Earth Science)

Learn about the building blocks of planet Earth by exploring shiny and colorful gems & minerals. Learn how to identify beautiful minerals, discover why some gems are valuable, and determine how we use minerals every day.

How to Mend a Broken Heart like an Engineer (Biology, Engineering, Health)

The scientists and engineers at Medtronic make all different types of devices that go inside the body to repair your heart and arteries – from heart values to stent grafts to balloons. Come to learn about the variety of devices we make, how we design and test them – and learn more about what working as a scientist or engineer is really like.

Introduction to Programming with MATLAB (Computer Science)

First, we'll take you on a quick tour of the MATLAB programming environment, and teach you some basic commands and how to draw a graph. Then you'll use MATLAB to play tic-tac-toe. Play against the computer (you choose the level of difficulty) or against a friend. Finally, you'll learn the basics for creating your own Graphical User Interface (GUI)

Science of Light and Color (Physics)

Light and color are inextricably linked, and we use them in a variety of ways in our everyday lives. From art and beauty to information and safety, light and color are very important to us and the understanding of our world. In this workshop, three general concepts in the science of light and color will be demonstrated: the energy of light and its tangible interaction with objects, how colors combine into white light and how this can shape our interpretation of what we see, and the ways in which we can manage light to create interesting effects

Steady Hand Game (Physics, Engineering)

In this workshop, you will build an electrical circuit that makes up the steady hand game. You will learn about basic electrical concepts and engineering. The objective of the game is to move a metal ring along a bare wire without touching the edges of the ring to the wire. If the ring touches the wire, a red light-emitting diode turns on, which indicates that the electrical circuit is closed. How far can you move the ring along the wire without triggering the light? All participants get to keep the game.

Your Brilliant Nervous System (Biology, Health)

How the brain body connections dictate your whole experience.

Working with a breezy solution to climate change: wind power! (Engineering)

Students work in teams on a STEM challenge to design and construct wind blades capable of spinning a small generator to produce up to 2.5 volts of electricity. Time is spent reflecting on the independent and dependent variables that affect the generation of electricity with a wind turbine.
Check-in & Directions
Check-in
EYH 2024 will be held on the campus of Santa Rosa Junior College.
Santa Rosa Junior College
1501 Mendocino Avenue
Santa Rosa, CA
What to Bring
We provide a snack, lunch, and a bag with items including a pen and notepad. The girls should not need to bring anything.
Arriving late? Leaving early?
If you'll be late to arrive (after 9 AM), please leave a message at 707-529-4451. If a student needs to leave early, let us know that. They will be escorted by a volunteer to the pick-up area. Volunteers will be wearing purple t-shirts.